An Android TV box – a small media center box connecting to a TV and playing movies, TV shows, and apps such as games – allows a user a great deal of usage from surfing the web to streaming video straight to your TV. These boxes can turn almost any TV into a smart TV with a wide range of options. Most people use them to stream movies or TV shows from their favorite streaming sites, such as Netflix, Disney Plus, or Hulu. Videos can also be stored locally such as a large video library and played on-demand.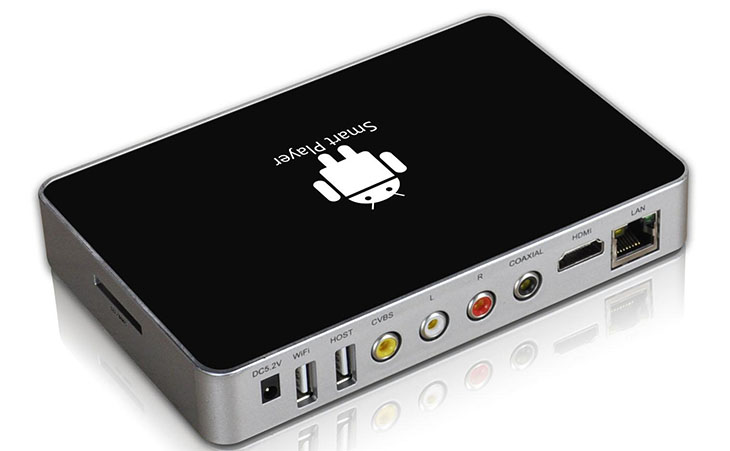 Infomir has a newfound box launched MAG424Aw3 and MAG425A. These Mags feature Android OS, 4K and HEVC support, and voice-controlled remote control. You can experience IPTV and VoD multimedia transmiting in high quality by setting this Android box. This is the perfect solution for launching on IPTV/OTT project allowing your viewers to relish thousands of games and applications for large screens. Moreover, you also can delight in thousand apps on Google play store as it adopted official certification by Google. In this post, I would like to give you the instruction in order to install IPTV channels for android IPTV with MAG424Aw3 and MAG425A.
Many apps play IPTV on android phone but we just recommend the best IPTV app for android IPTV  with Android Box and Mag 424Aw3 & 425A.
If you don't have an Android BOX, you can buy it here
1. IPTV APP
3. IPTV PREMIUM
4. Smarter IPTV App
You must download one of them from the Google Store
The first one is IPTV app
When completely downloading IPTV android app, open this IPTV app.
Then click on the "Add Playlist".
Ater that, click on "Select File" or "Add URL".
For normal IPTV (m3u file), you can search for free IPTV on google but it is not stable and has poor quality. Therefore, if you want a stable IPTV service, you can buy from the owner of the website. Here, we provide best IPTV service with more than 5000 channels IPTV HD and 24 hours free IPTV test.
OK, we have done installing IPTV android app.
Firstly, download and install Perfect Player IPTV app on Google Play store.
Then tap "Setting" (Little Cog)

Tap "General"

Tap "Playlist"

Next, insert your M3U link ( you can buy IPTV from the website: http://biptv.best/)

And then tap EPG
Insert your custom EPG link ( we have IPTV premium include EPG)
Last but not least, press back and wait for it to load IPTV channels
Let enjoy!
The third is IPTV PREMIUM APP
Step 1: The first thing you need to go to the Google Play store, search for "Premium IPTV", and install it.
After installing, open it. The first time you open "Premium IPTV" app it looks like that.
Step 2: Now what we are going to do is going ahead and entering your username and password in the Username and Password section.
If you don't have username and password, please register from our Website: Bestbuyiptv.com. We will send a 24 hours free test.
After that, you just need to click on LOGIN button and wait for a second.
You will see here it is loading the channel up. The app will show as in the below:
Live TV: Now you can see it. We have 7300 channels in total. It is sorted by country. You can click on to choose the country and the channels you want to watch and enjoy it.
Live TV with guide: Go to the 'Live TV with guide'. Click on it. You can see many different categories on the top. You want to watch something just come over and click on it. It takes a little time to load you just need to wait for it. You need a little bit of patient, loading speed depends on internet speed.
Video on demand: We have more than 8000 VOD including TV series. You can click on and check it out.
TV Archive
Setting
Account info: Click on and you can check your info
You know it should be good to go and watch your favorite Channels using Premium Android app.
The last one is Smarter IPTV App
IPTV smarter IPTV Smarters is a media player helping you manage IPTV channel list and VODs. Now it is available for Windows Platform to watch Live TV, Movies, and Series.
Step 1: Download IPTV smarter player on Google Play store.
Step 2: Enter your username, password, and port
Any name: you can enter any name
Username: Enter username of your line (login on bestbuyiptv.store to find your password)
Password: Enter the password of your line
Port:  http://m3ulink.com:6969
Step 3: Click on ADD USER then wait for a while. It can take up to one minute to load channel and VOD.
So now you can choose any app which is reasonable for you.
.
Contact us for more information:
Email: [email protected]
Skype: live:bestbuyiptv.com
Youtube: Youtube.com/c/Bestbuyiptv
You can read more:
TAG: iptv android, box android iptv, smart iptv android, iptv gratuit android,  iptv box android, iptv android apk, meilleur application iptv android 2018, application iptv android, iptv android gratuit
Welcome viewers, this is Nick here again, and welcome to TV box stop, the channel where we feature the best in Android TV boxes. On today's presentation, we have an unboxing and review of the Yundoo Y2, Amlogic S912 Octa Core Android 6.0 4K TV box. In a minute, we'll take a look at its hardware specs, and how well it performs, so stay tuned, we'll be right back after this.
Welcome back. As you can see the Yundoo Y2 comes in this simple brown box, there is nothing fancy about it. On the cover, you have some writing that states some of the main features of the box which we will get to in a minute. The Yundoo Y2 feels a bit hefty than the other TV boxes, it weighs approximately the same as the Amazon Fire tv. In the box, as you can see you have your Yundoo Y2 TV box, an infrared remote control, you get 1 HDMI cable, a power adapter, and a user manual. The user manual comprises of 7 short chapters to assist you in getting started with this box. Let's take a look at its hardware specs. The Yundoo Y2 runs on the latest Amlogic S912 Octa Core CPU, with speeds of up to 2.0 GHz. With this new CPU, you get advanced decoding technology, it supports both H.265 and VP9 decoding, for a faster and smoother experience with less bandwidth occupation. It comes with 2 GB of Ram and 16 GB of internal storage. Its graphics, is powered by the Mali T820 Tri core GPU, with speeds of up to 750 MHz. It is stated that this new tri core GPU, is equal in performance to the previous Octa Core 450. The Mali T820, when combined with the power of the S912 CPU, provides advanced 3D gaming, and is able to handle most 4K video between 30 to 60 fps. The Yundoo Y2, comes with improved WiFi connectivity, it comes with dual band 2.4 + 5.8 GHz WiFi, and Bluetooth 4.0. It comes with Mira cast, DLNA, and Airplay, to connect and stream videos and photos live from Android smartphones and tablets directly to your big screen. The Yundoo Y2 comes installed with the latest Android 6.0 marshmallow, and preinstalled with Kodi 16.1 along with some addons for your enjoyment. So after all of that tech stuff, what is thisbox, and what can it do for you. A TV box like the Yundoo Y2, allows you to experience Android OS on your TV, the same way you would on your smartphone. TV boxes are heavily focused around movies and android games. You can enjoy all your paid subscription services like Netflix, Hulu, Sling TV, Pandora, and many others. You can also enjoy onlimited streams of freemovie content via YouTube and Kodi media center. In other words, if you a tired of the same old programming from your paid subscriptions, and you need something in HD or 4K that's not going to cost you a fortune, then the Yundoo Y2 is a great TV box to provide such an experience.
Let's take a look at its ports, and how we can connect this TV box to our TV. The Yundoo Y2 has 1 HDMI port, 2 USB ports, 1 RJ45 Ethernet LAN port, 1 Audio Video port, 1 optical audio port, 1 SD card slot, and a power adapter jack. What I am going to do now is connect this Y2 to a TV, and demonstrate how it operates, and we are also going to look at some bench mark results and see how well it scores. So, this is the launcher of the Yundoo Y2, and it comes with a navigation bar at the bottom for easy navigation. If you disable the bar at the bottom, you can re enable it easily by simply swiping the screen from the bottom up.
Let's take a look at what preinstalled apps we get with this box. I see here we have facebook, Kodi, Netflix, Google play store, Pandora, Skype, twitter, YouTube, Plex, and many others. The Google Play Store is fully functional, so you can download and install any app you like. In the settings area, if we go to network, here you can see and connect to your network, weather it is cable or WiFi. You have dual band WiFi connectivity, you can either connect to the 2.4, or 5.8 Ghz band depending on what router you have. Moving on to display, here you can see and switch to what resolution you want. What ever TV you connect to the box, it will detect its resolution and it will be available for selection. Under the sounds option, here you can select what output audio you want. You have the option of PCM, HDMI, or Optical audio. You also get Dolby Digital DTS pass-through. Under the Languages option, you can find just about any language in the world, so the Yundoo Y2 is prepared to work in any region. Under the more settings option, you will find an option called about media-box. Here you will be able to see all the information about the box, like model number, Android version, Kernel version, and Build number. So before we go to the benchmarks, I will open up Kodi and see what version comes preinstalled. As you can see, it comes preinstalled with Kodi 16.1. Even though Kodi 17.1 is the latest version, this is not a problem, because Kodi 17 Krypton is still in beta and can be glitchy at times. Kodi also comes preinstalled with all of your major addons for your enjoyment. On to the benchmarks. For the first benchmark, we are going to run the root checker app. As you can see, it says that this box has root access, or as some people would say that the box is rooted. This is important, because you get the benefit of accessing administrator privileges over the Android installation, you also have full control over the applications installed on your TV box. In other words, it means that you can install and uninstall what ever app you like, and you can set permissions for them too.
Next, we open the Digital rights manager app. Here we have the digital rights information, and from testing Netflix, it appears that Netflix does not run in High definition, as most of the TV boxes that come out of China. As mentioned earlier, the Yundoo Y2 has root access, so the Google Play store runs without any issues, and you can download and install any app you like, and uninstall them whenever you want. Here we have the AnTuTu benchmark test, the AnTuTu Benchmark, is a comprehensive Android Benchmarking application, It tests the performance of Memory, CPU Integer, CPU Floating Point, 2D and 3D Graphics performance, S D card read and write speed, and Database IO performance testing. When it is finished, it gives you an overal score that you can compare to other devices. The Yundoo Y2 in this test, got a score of thirty six thousand one hundred and eightteen, higher than a lot of boxes in its class.
Next we have the Geekbench 4 benchmark test. Geekbench, is a processor benchmarking application, Like other CPU benchmarking applications, Geekbench runs a series of tests on a processor, and times how long the processor takes to complete each tasks. The quicker the CPU takes to complete each tests, the device in turn will get a higher score. In this test, the Yundoo Y2 got a score of 433 single core, and 2300 multi-core. If you scroll down, you can see results for each of the individual test. For the next benchmark, you have the Ice storm extreme test, this test includes everything that you need for benchmarking a TV box in one application. Whether you're gaming, watching movies, using a #D application, or chatting online, 3D Mark includes a benchmark designed specifically for your hardware. In this test, the Yundoo Y2 got a score of 6135. For the last benchmark, we take a look at the CPU Z test. In this test, it simply displays information about the CPU. Information like its speed, number of cores, its architecture, GP U render, and operating temperature. The CPU Z test reveals that it is an octa core CPU, with support for the Mali T820 GPU, and it has an average operating temperature of 58 to 65 degrees Celsius. Thats it for the benchmarks. Now we take a look at Kodi. As you can see we have Kodi 16.1 Jarvis installed and it boots up very quickly. If we go to the video addons section, you can see that it comes preinstalled with a few of the major video addons. This is OK, since there are many tutorials on YouTube on how to add and install more video addons. So Kodi moves pretty fast, and you are able to play 4K videos at various fps. YouTube is fully functional, You can play YouTube videos in 1080p quality and over.
And for my final demonstration, I will run a game called traffic racer, to see how well the Yundoo Y2 handles the 3D graphics acceleration. As you can see the combination of the S912 CPU, together with the Mali T820, provides smooth and fast 3D gaming. Just a reminder, the stock remote control that comes with this box doesn't work that good, its an infrared remote control, which means you're required to point and click constantly, which doesn't always provide the desired results. So it is recommended that you purchase a separate wireless air mouse or a touch-pad keyboard like the one I'm using in this video, for a better navigation experience, especially if you are one of those who like to install Kodi addons for yourself. So in closing I would definitely recommend the Yundoo Y2 based on its speed, Kodi performance, its 3D gaming, its Hardware, and its price. On the down side, I didn't get the OTA one click update to work in this video, and I had some issues with Mira-cast, and screen mirroring. So this was an unboxing and review of the Yundoo Y2 Amlogic S912 Octa Core Android 6.0 TV box. If you are interested in this box, a link was placed in the description area for more information.
Thanks for watching, remember to like this video if you found it informative, share it with your friends, and subscribe to this channel for more TV box stop videos.